Costa Rica: Prostheses that transform lives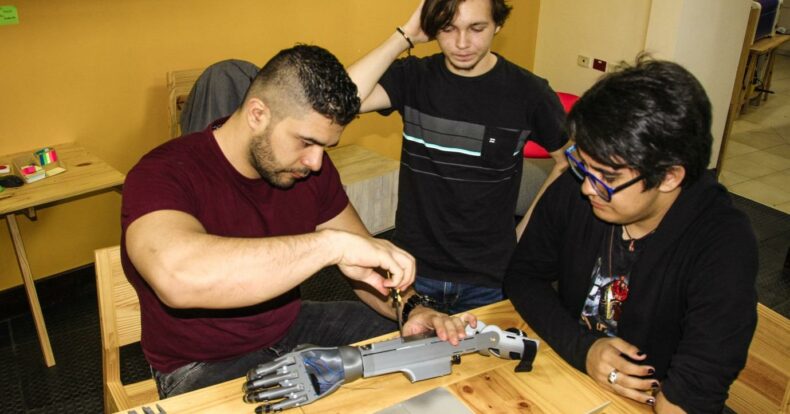 Through 3D printing technology, Fundación Biónica seeks to provide functional and low-cost hand prostheses to people who cannot afford these devices.

Current situation in Costa Rica
In Costa Rica, the Caja Costarricense del Seguro Social manages the Taller Nacional de Ortesis y Prótesis, which manufactures prostheses for lower limb amputees and has waiting lists of up to one year to provide a prosthesis, however, they do not offer solutions for upper limb amputees.
The Costa Rican Social Security Fund (CCSS) has some orthopedic houses where prostheses are distributed under prescription, but they also have waiting lists and are not sufficiently comfortable or modern.
Very complex electrical (myoelectric) and body-powered (mechanical) devices are available privately to meet the needs of patients, but they cost between $3000 and $70000 depending on the level of functionality. Social security subsidies are equivalent to a maximum amount of ₡706,000 (approximately $1100) to care for people with traumatic and congenital amputations and reductions of the upper extremity who do not have the resources to purchase a prosthesis on their own.
Population with disabilities in Costa Rica
Although no updated data is available, according to (ENADIS 2018), the percentage of people aged 18 years and older with disabilities is 18.2%.
According to the National Survey on Disability (ENADIS 2018), there are significant gaps between people with and without disabilities in the educational field.
People with disabilities have a percentage of incomplete primary education of 19.6% and people without disabilities of 10.0%. Likewise, there are significant gaps in terms of the right to work.
As a consequence of the above, people with disabilities are located among the sectors of the population with fewer economic resources.

Advantages of 3D printing
It is important to mention that in Costa Rica most of the components used in the manufacture of a prosthesis are imported and a specialized technician is required to take the patient's measurements and customize the device, these factors increase the cost and manufacturing time of the prosthesis.
3D printing technology has led to improvements in many aspects of industry, with the medical sector being one of the biggest beneficiaries. Advances in computer-aided design (CAD) and additive manufacturing (3D printing) speed up manufacturing times, allow customization and will lower the cost of prostheses.
Bionic Foundation
The Bionica Foundation is a Costa Rica-based non-profit organization that develops prostheses, implants and other devices to help people with some type of disability, giving priority to children and young people in vulnerable situations.
The main idea is to "give a hand" to the people who need it most, thus avoiding the high costs of a traditional prosthesis. According to Stevens (2015) the ideal prosthesis should be accessible, durable, lightweight, cosmetically acceptable and functional. With this we promote the labor inclusion of these people, social, labor and family reintegration.
We use two open source hand prosthesis models, Kwawu Arm 2.0 – Prosthetic – Socket Version and the UnLimbited Arm v2.1 – Alfie Edition. Using the free and open source CAD software OpenSCAD, we parameterize the designs according to the measurements of each user to achieve prostheses of different shapes and sizes.
We work mainly with materials such as PLA (polylactic acid) filament, one of the most popular materials used in 3D printing. It is odorless, highly resistant to moisture and grease. It is thermoplastic, which means that with heat it becomes flexible and adapts to the morphology of the person. It is created from raw materials rich in starch, such as potato, cassava or corn, which makes it a biodegradable material through composting.

New Challenges
As a developing country, Costa Rica ranks among the six countries in the world with the best health care in the world in 2019, according to International Living.
Even so, access to health insurance and support products remains insufficient for the population with disabilities living in poverty.
With respect to insurance status, it is important to highlight that 8.6% of people with severe disabilities and 25.0% with mild to moderate disabilities do not have any type of social insurance.
In addition, a quarter of the population with disabilities (26.8%) requires assistive devices to perform daily living activities but do not have them or need another one, due to various reasons such as: the devices do not meet their needs, poor quality and lack of financial resources to purchase, repair or maintain them.

Facts to remember
The Costa Rican Social Security Fund does not offer solutions for upper limb amputees.
Social Security subsidies are equivalent to a maximum amount of ₡706,000 (approximately $1100) to care for people with upper limb amputations.
The percentage of people aged 18 and over with disabilities is 18.2%.
3D printing technology speeds up manufacturing times, allows customization and will lower the cost of prostheses.
More than 50% of people with disabilities live in poverty and extreme poverty.
The Bionic Foundation is a non-profit organization that serves the population of amputees in poverty.
Bibliography
https://www.larepublica.net/noticia/coopeservidores-y-fundacion-bionica-se-unen-para-ampliar-el-acceso-a-protesis
https://www.tec.ac.cr/hoyeneltec/2016/11/30/ergotec-usa-impresion-3d-novedosos-metodos-hacer-protesis-mejores-mas-baratas
Stevens, J. (2015). Prosthetics in resource-limited countries. https://opedge.com/Articles/ViewArticle/2015-06_02
National Survey on Disability 2018 (ENADIS 2018) https://www.inec.cr/sites/default/files/documetos-biblioteca-virtual/reenadis2018.pdf
https://www.thingiverse.com/thing:2841281
https://www.thingiverse.com/thing:1672381
https://es.wikipedia.org/wiki/%C3%81cido_polil%C3%A1ctico
https://internationalliving.com/countries/costa-rica/health-care/

Author: David Meléndez
Fundación Biónica de Costa Rica

These articles can be of interest to you