Key Figures: Jacqueline Aubourg, entrepreneur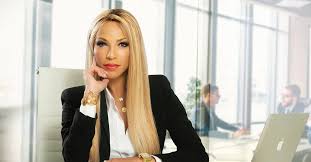 Jacqueline Aubourg is a Costa Rican entrepreneur and investor. She was born in San Ramón de Alajuela but her destiny took her to live in Italy, China, the United States and the Middle East. She is one of the most successful Costa Rican business leaders.
Jacqueline Aubourg, a high-flying business leader
Jacqueline Aubourg is dedicated to the sale of private jets, is CEO of AIBC International Business Consulting, and is a natural gas consultant for Qatar. She has also just launched her brand Jacki Au, a TV show about gastronomy that she filmed in Costa Rica. In Italy, she worked for the Italian version of Saturday Night Live, for the Mediaset group.
Currently, she is a Senator representing Costa Rica before the World Business Angel Forum WBAF, an affiliated partner of the G20. Her mission is to provide equity capital to entrepreneurs with early stage projects with high development potential. Angel investors not only finance start-ups, but also provide advice and make their network of contacts available.
Although the risk can sometimes be very high, Jacqueline Aubourg affirms that it is precisely what moves her because she likes the challenge and the novelty. "I am aware that there are very good ideas, but entrepreneurs do not always have the economic possibilities to launch them, or do not meet the requirements to access a loan with a financial institution, which is very common in Costa Rica, for example. That is where we angel investors come in," says Aubourg.
So far it has supported more than 30 businesses with diverse ideas ranging from apps to connect entrepreneurs to micronutrient beverages.
Supporting women
Deeply convinced that opening more spaces for women benefits society as a whole, Jacqueline Aubourg is deeply involved in the development of projects led by women. "The incorporation of women in the labor market is not only a fair, but also a smart move. Closing GAP studies indicate that global GDP would increase by 16% if all women of working age were incorporated into the labor market," says Aubourg. "In a society where gender wage gaps still exist, we cannot be complacent. Currently in Costa Rica, unemployment among women is 19%, while among men it is 12% (according to data from the National Institute of Statistics and Census (INEC) as of November 2021."
Jacqueline is convinced that the effect of female unemployment hits us all as a society, as studies show that the income multiplier effect is greater for women than for men. In other words, every dollar a woman receives translates into consumption for her children and her community at a higher rate than when the same dollar is in the hands of men.
Author: M. Barrantes in collaboration with Jacqueline Aubourg for Sensorial Sunsets
These articles can be of interest to you