Kombucha Workshops: Education & Experience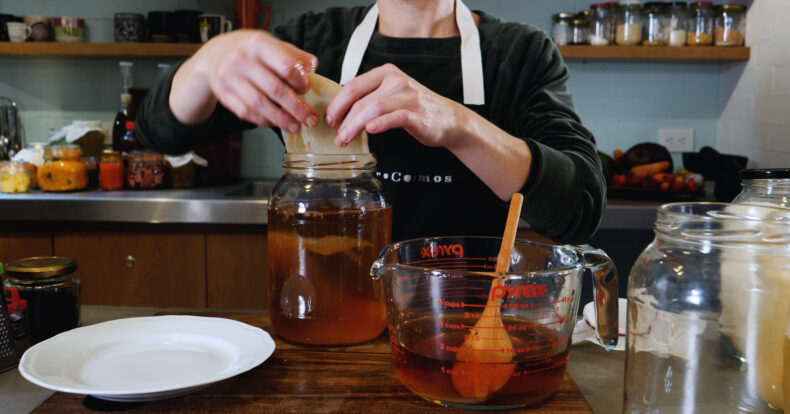 Kombucha, recognized for its outstanding health benefits, has become a popular beverage in recent years. The fermented beverage is brewed at Tierra de Pardos, as it has been a key factor in the life of this family that has faced significant health challenges.
Discovering Kombucha in Tierra de Pardos.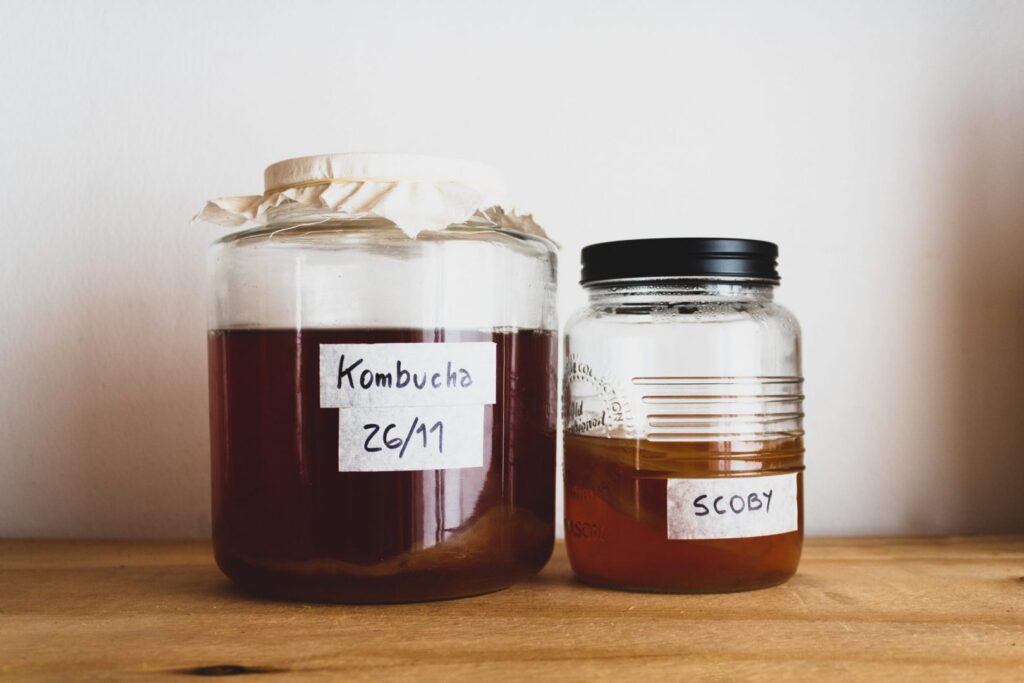 The history of Tierra de Pardos is intrinsically linked to health and family. A decade ago, INA engineer and professor David Molina donated a microorganism culture called SCOBY (Symbiotic Culture Of Bacteria and Yeast) to this family. This marked the beginning of in-depth research into the benefits, composition and production of Kombucha.
The preparations of Kombucha at Tierra de Pardos are flexible and can be adapted to the seasonal fruits and the number of workshops scheduled. Every week, 12 liters of Kombucha are prepared both for consumption on the farm and for the workshops they give.
Key Ingredients and Assorted Flavors.
By fermenting for 3 to 4 days, we achieve the first process of the Kombucha beverage, then we bottle it and for 22 days it will continue to ferment passively to achieve a maturation of the beverage and to be able to consume it.
The main ingredients for the elaboration of Kombucha include tea varieties such as black tea, red tea or green tea, all rich in antioxidants. Also, the fruits used can vary according to the season and personal preferences, without interfering with the fermentation process.
On the other hand, the health benefits associated with Kombucha are broad and diverse. The action of the bacteria and fungi present in SCOBY benefits the body in multiple ways, including the repair of organs and systems, such as the nervous, circulatory, digestive and skin. However, it is important to note that excessive consumption of Kombucha is not recommended. People with diseases such as diabetes or blood pressure problems should moderate their consumption, and a rest period of one week is advised to allow the assimilation of the organisms. Its consumption is also discouraged in children under 5 years of age, pregnant or breastfeeding women.
Kombucha Workshops and Talks: Learn, Share and Enjoy.
Besides the production of Kombucha, Tierra de Pardos offers workshops and lectures related to this fermented beverage.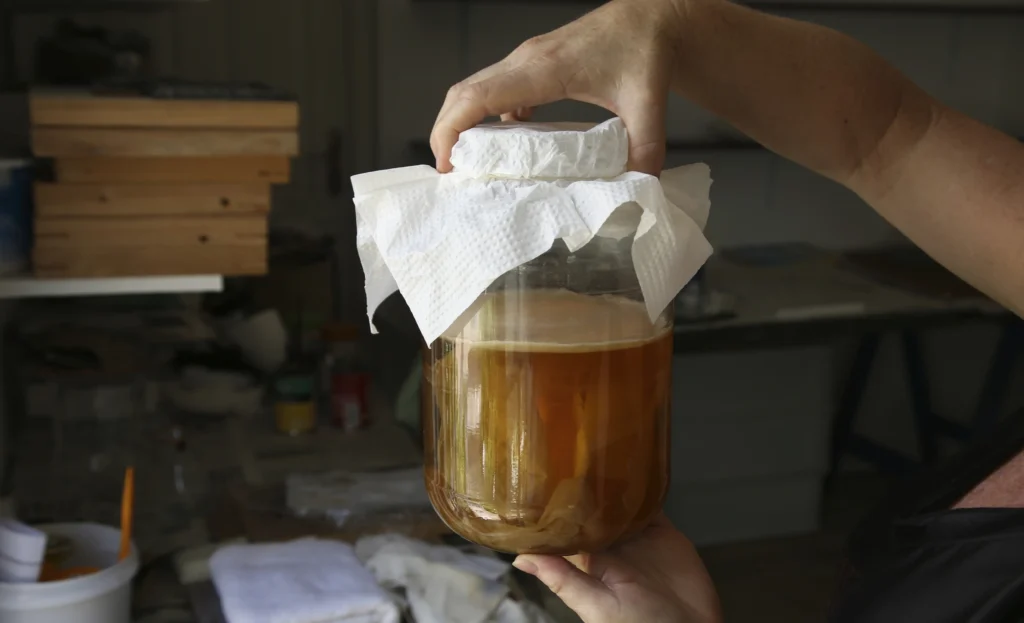 The workshop has a duration of 2 to 3 hours maximum, there is an introductory class on the fungi and bacteria present in the culture, the indications for people with some diseases that due to these bacteria can not consume kombucha, also the good consumption and benefits, information is shared on the maintenance and reproduction of the culture. Once the first block is finished, it begins with the elaboration of kombucha, the recommended fermentation times for preparations, recipes, and packaging.
Similarly, the workshops began to be held in different parts of the country, in order to make the information more accessible.
During the last few years, the community has responded positively to the Kombucha workshops and other activities related to food awareness in Tierra de Pardos. Favorable comments and references indicate that these workshops are informative and have a significant impact on those who attend them.
Kombucha and Health.
A remarkable story in the Tierra de Pardos experience is the transformation of the health of Natalia's father, who was diagnosed with Parkinson's due to the use of agrochemicals.
Ten years ago, Don Francisco, my father, was diagnosed with Parkinson's, a product of the use of agrochemicals for 30 years, with a life expectancy of 3 years, in 2023, thanks to kombucha, among other natural stimulants, we have managed to live ten and even with mobility without resorting to wheelchairs, walkers, or supports.
This personal experience inspired Natalia to start workshops and share the benefits of Kombucha with others.
For those who are not yet familiar with Kombucha, Tierra de Pardos' recommendation is to initiate its consumption through information and understanding of its benefits. This drink can be a valuable ally for health, but it is essential to consume it in moderation and according to personal needs and restrictions.
Sensorial Sunsets in collaboration with Natalia Aguilar.
These articles can be of interest to you