Pharmaceutical product for morons in Costa Rica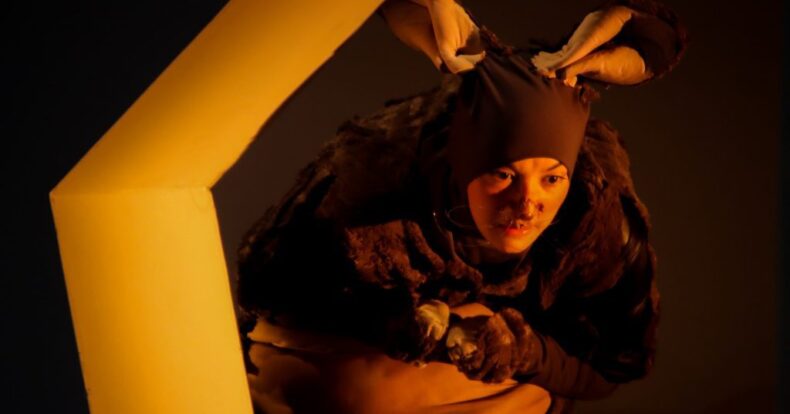 The story begins with a contemporary art museum guard who, affected by the aggressive stimulation to which his job exposes him, decides to become an artist, under the suspicion and questioning of the apparent simplicity of the works that we can see routinely exhibited in museums. That is to say, this work is based on the discontent and deep doubt about the direction that contemporary proposals manifest, not being at all distinguishable from everyday objects or presented as empty vessels of meaning.
In his rise to artistic fame, this guard will find as obstacles, not the absence of inspiration, but the rhetorical manipulation of the critics. In this work, the ruthless speculation of collectors generates a confrontation with the spectators in front of that white line, the one that delimits the work and that act of faith, which calls us to point out something similar to "art".
What do people look at when nothing looks back at them?
Producto farmacéutico para imbéciles is based on a critique of art, the modern art that exists in today's society. Its plot seeks to generate a reflection on the deep meaning of art, without neglecting the sense of humor. This work makes reference to contemporary art pieces and artists, in addition to using the strategy of mockery.
Out there, these things could pass for garbage, but here they are so jealously guarded and prepared for the visit…
The whole speech that accompanies contemporary art is outrageous. They attract great artists, however, it is enough to know a little art history to know that they have no real value, it is an empty aesthetic that is sheltered under the fact of having great intentions. Contemporary works are thus physically devoid of aesthetic values and shield themselves from having great moral intentions.
In other words, to accept art as something that does not demonstrate aesthetic values, an instruction manual is needed, a manual written by art critics, people from the world of culture, from museums, as if they were all participants in this money-making machine. In this way, director Véronica Bujeiro, talks about how she wanted to invite people to leave aside the thought of "theater for educated people" and make their way on stage. This, to see people's reaction to a show that blends with reality, the interpretation is left open to the public.
Museums and the white line inside the play
The museum is like a stomach where reality is digested.
Objects cease to be what they are the instant they cross the threshold of the museum, in fact, it can be said that it is the work that creates the context. Every museum generates emotions, what is represented in an exhibition can influence what visitors will know, think, remember and do as a result of what they felt when experiencing the exhibition.
It undoubtedly invites viewers to question their own gaze, how they look at the everyday, and also how they look at art. In this way, it aims to invite people to go to an exhibition hall or a museum.
Author: Zelda Walters for Sensorial Sunsets

These articles can be of interest to you