The Fishermen of Malpaís, Puntarenas, Costa Rica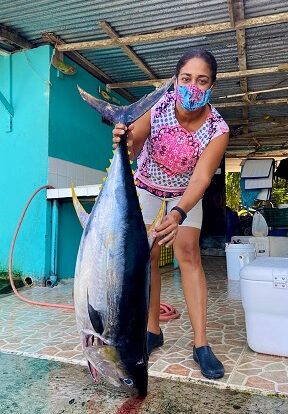 Located in the province of Puntarenas, is this wonderful place called "Mal Pais".
A quiet town of lush vegetation that borders the Cabo Blanco Natural Reserve, which enriches it even more, Mal Pais is located in the southeastern tip of the Nicoya Peninsula.
Welcome today to this picturesque town where most of its inhabitants are fishermen, who will be the protagonists of this article.
Mal Pais, a fishing village.
Mal Pais is famous for its exotic turquoise beaches, its fauna, and its pools, but even more for its fishermen., aAmongst them we can talk about Don Alvaro Rodriguez, who initially worked on his father's farm and at the age of 24 decided to devote himself to fishing and thus, earn a living to support his family., hHe has 35 years of doing this work, which plays with great zeal along with 34 independent fishermen who have joined in a working group to move forward artisanal fishing.
They usually leave in their boats, or "pangas" as they call them, between 6:30 and 7:00 in the morning to go out into the open sea with a single in search of their only objective: fishing for yellowfin tuna, snapper, mackerel or Mahi Mahi Mahi, their pangas are equippedarmed with an outboard motor, life jackets, and their fishing rods or nets.
In the offtimes out of the fishing season, they take tours to nearby islands and, for the more adventurous tourists, take them diving and catch their own dinner or lunch.
Every boat that sails from Mal Pais must have someone responsible at the helm., tThis is where we find one of the captains: David Ramirez, who is dedicated to this trade since the young age of 12 years, is a native of the area and loves what he does., hHe explains that his work days of work are arduous but the reward is worth it, as their product and service is well received by customers.
You may be wondering: how does this work? These people go out very early in their pangas, fish, and bring their merchandise to the Collection Center located on the beach of Mal Pais., tThere they have a cleaning area where they scallop and fillet the fish, then they place it in cold storage chambers properly packaged and from that moment on it will be available for sale.
These people are so kind that, if you decide to buy fresh fish and eat it there, they can prepare a fresh sashimi with tuna just out of the sea., tThey fillet it at the moment so you can taste it.
The whole community benefits
Many, all the people who live in the area benefit from them because we have a fresh, healthy product at hand and at the same time we support our fishermen, artisanal fishing, and all those families who live fromon this to move forwardget ahead.
So the next time you visit Mal Pais or its surroundings such as Santa Teresa, take a walk through the Collection Center and thus collaborate with the local economy and you can enjoy a delicious fresh fish at its best, as a: tuna tartar, fried whole fish, cabrilla in tomato sauce or as you wish to prepare it, meanwhile I say BON APPETIT!
THINGS TO REMEMBER
. The fishermen of Mal Pais bring benefits to the whole community.
. Helping local fishing, consuming their products we all benefit.
Paola Espinoza Alcoser IG: @paolachef
Chef FB: Baklava Gourmet
Cell 8825-6153 FB: Paola Espinoza Alcoser
paolaealcoser@gmail.com

These articles can be of interest to you